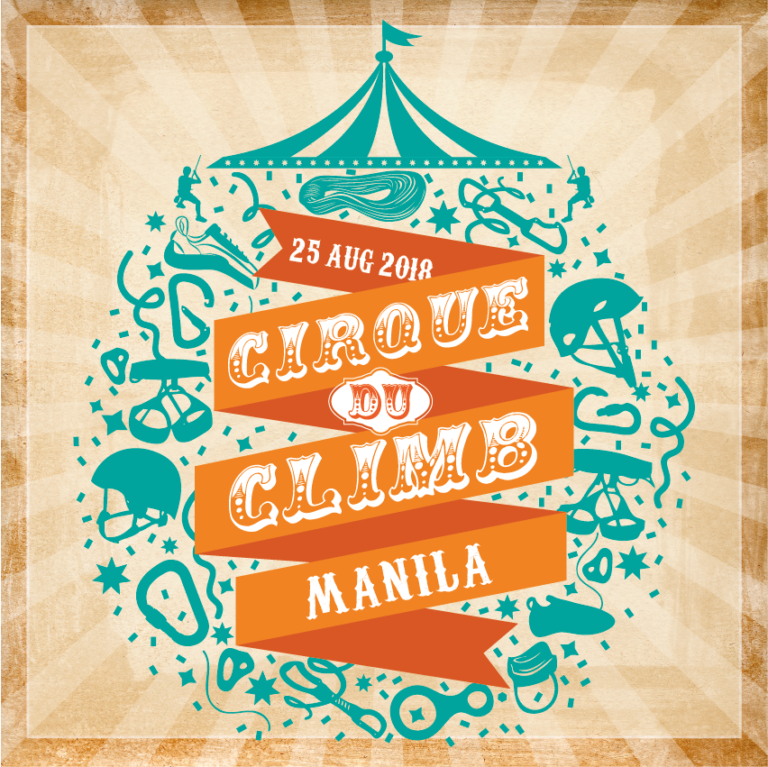 Date/Venue
Cirque du Climb 2018 will be held on the 25th of August in Climb Central Manila
Categories
Open to all climbers (5 years old and above)
Format
Climbers are to complete as many routes as possible to accumulate points. Amount of points will be dependent on route difficulty. Points accumulated can be used to redeem prizes.
Prizes and Ranking
There will be no Top 3 finisher prizes for this event
All prizes will be available for redemption using points
Major prizes that were not claimed will be raffled off at the end of climbing time.
General Rules
The event will be done in two batches, each with the same number of prizes.
Some of the routes will be newly set; others will be the existing routes in the gym.
Only top-rope and auto-belay lines will be open for the event.
Participants may "rainbow" climb lanes but must follow color coded routes to earn more points.
No belayers will be provided by the organizers, participants are to belay each other.
Only registered participants will be allowed to enter beyond the counter.
Registration is inclusive of an equipment set if necessary. (Subject to availability)
Regular facility rules apply.
"Hangdogging", working the moves on a route is not allowed. At each fall the climber must return to the ground and queue for the lane again.
A climber will be asked to terminate his/her climb and be lowered when:

The climber pulls on a quickdraw/hanger
The climber rests/falls on his/her climbing rope
The climber uses a hold other than his/her indicated route to climb
The climber uses T-Nut hole on the panels
The climber uses artificial aid/equipment to climb the wall
The climber exceeds the maximum allocated time during his/her attempt
Registration
All participants must purchase a ticket (score card) at Php800 for youth/adults or Php1000 for an adult and child pair. This counts as the participant's registration, which includes entry into the gym during the time duration of their respective round, and a chance to win prizes within the round they have registered for.
Registration is per round. Participants that wish to join both rounds must register for both.
There will be a limit to number of participants.

Round 1 (10am to 3pm) - 150 participant max
Round 2 (4pm to 9pm) -150 participant max

Slots are confirmed upon payment. Interested participants are encouraged to register at Climb Central or online before event day to ensure slot reservation.
Gear rentals are on a first come, first serve basis.
Entry during carnival schedule is strictly for participants only.
Children (5-12yrs old) are required to register with an adult to ensure proper supervision. Both the child and the adult will be given a scorecard each.
To Climb
Register and submit your indemnity form to receive a scorecard
Attend the event mass safety briefing
When the event starts, choose a route you would like to try
Queue for the lane by submitting your scorecard to the respective judge and wait for your turn
When it's your turn, you must commence your attempt within 60 seconds, or your turn will be forfeited
You can only attempt the route once during your turn
You will have a maximum of 5 minutes to complete your climb
Claim your scorecard before leaving the lane
You are allowed to try the route again by re-joining the queue if you have failed to complete the route. You can alternatively try a different route.
Each route completed successfully will entitle you to the designated points set for the route.
You are allowed to complete as many climbs as possible within the allotted time of 3 hours from the moment your round starts.
You may choose to use your points to redeem prizes during the duration of your round schedule.
Cut-off of prize redemption at the end of climbing time. No more prize redemptions will be entertained after climbing time.
Facility will be emptied after every time slot.