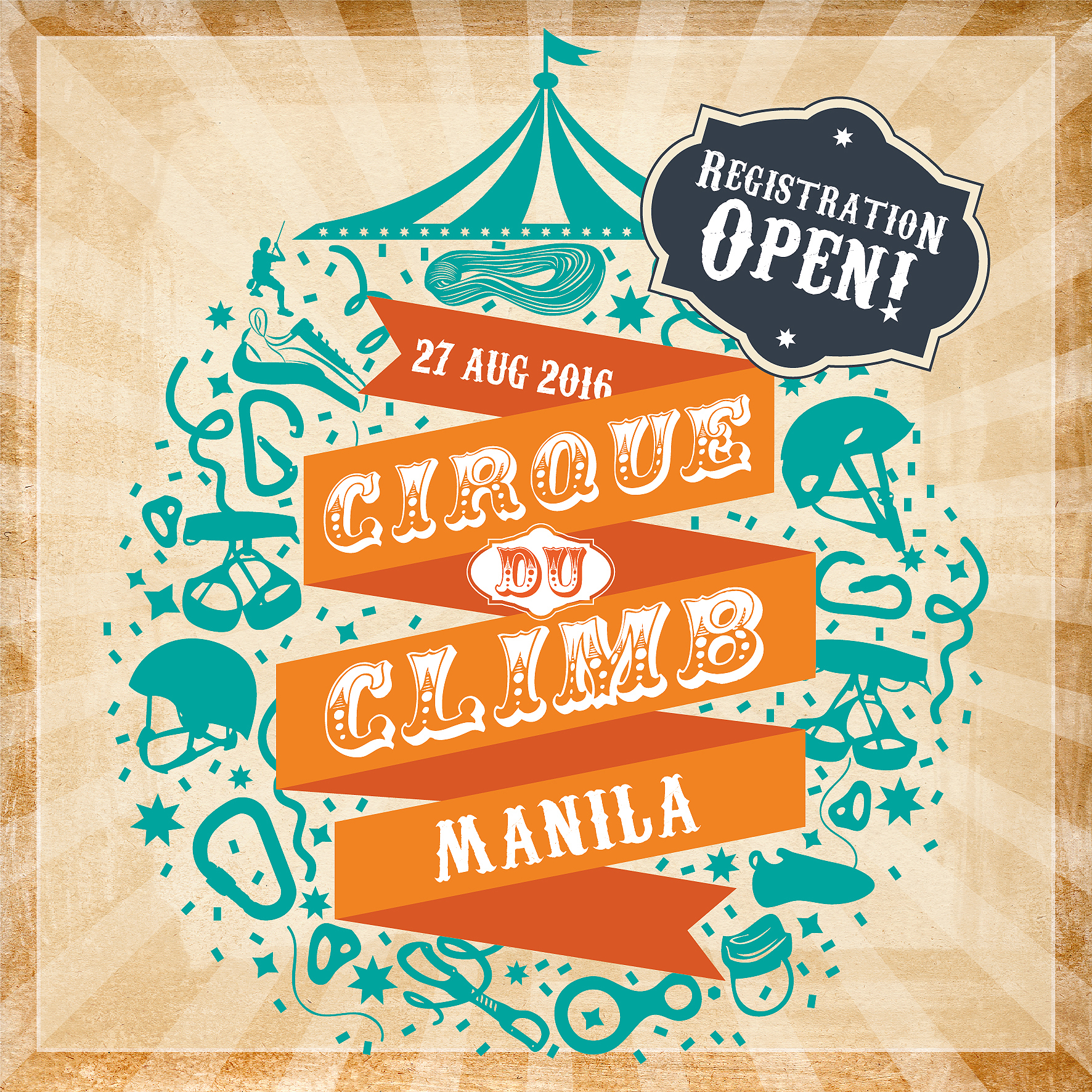 Date/Venue
Cirque du Climb 2016 will be held on the 27th of August in Climb Central Manila
Categories
There will be Male and Female categories for all of the following:
                 Youth/Children (08:00am to 01:00pm)
Junior C (8 to 10)
Junior B (11 to 13)
Junior A (14 to 16)
Manila Youth (17 to 19)
                 Open (01:00pm to 06:00pm)
Open to all climbers (13 and above)
Format
Climbers are to complete as many routes as possible to accumulate the highest points. They can either use the points accumulated to redeem for smaller prizes or to use for a chance to win the top 3 prizes available in their category.
Prizes and Ranking
Prizes will be awarded to winners for each category. All national climbers, climbing gym staff, sponsored athletes and finalists in any OPEN category competitions (difficulty / boulder / speed) are not eligible for prizes.
Rankings will be determined by cagtegory and the total number of points accumulated less points used to redeem prizes.
Youth/Children category results will be counted as Young, Wild, and Free series' 1st leg rankings.
General Rules
The event will be a three-hour pumpfest for the kids and youth categories and three-hour pumpfest for the open category.
Some of the routes will be newly set; others will be the existing routes in the gym.
Only top-rope and auto-belay lines will be open for the Youth/Children categories. Boulder wall will be activated for the Open category
Participants must follow colour coding to complete a route. Any use of other coloured handholds or footholds is not allowed.
No belayers will be provided by the organisers, participants are to belay each other.
Participants of Youth/Children category are entitled to bring in one (1) adult each as belayer/guardian/spectator.
Registration is inclusive of an equipment set if necessary. (Subject to availability)
Regular facility rules apply.
"Hangdogging", working the moves on a route is not allowed. At each fall the climber must return the ground and wait their turn if other climbers wish to use the rope.
EVENT DAY
Registration
All participants must purchase a score card at Php600 for Open category or Php500 for youth/children. This counts as the participants registration which includes entry into the gym during the time duration of their respective category and a chance to win prizes within the category they have registered for.
Registration is per category. Youth aged 13 and above that wish to join both Youth/Children and open categories must register for both.
There will be a limit to number of participants.

Youth/Children (9am to 12noon) -80 participant max
Open Category (1pm to 4pm)             -160 participant max

Slots are confirmed upon payment. Interested climbers are encouraged to register at Climb Central or online before event day to ensure slot reservation.
Entry during carnival schedule is strictly for participants only.
Participants of Youth/Children category are entitled to bring in one (1) adult each as belayer/guardian/spectator.
To Climb
Register and submit your indemnity form to receive a scorecard
Attend the event mass safety briefing
When the event starts, choose a route you would like to try
Queue for the lane by submitting your scorecard to the respective judge and wait for your turn
When it's your turn, you must commence your attempt within 60 seconds, or your turn will be forfeited
You can only attempt the route once during your turn
You will have a maximum of 5 minutes to complete your climb
Claim your scorecard before leaving the lane
You are allowed to try the route again by re-joining the queue if you have failed the route. You can alternatively try another route
Each route completed successfully will entitle you to the designated points set for the route.
You are allowed to complete as many climbs as possible within the allotted time of 3 hours from the moment your category starts.
You may choose to use your points to redeem prizes during the duration of your category schedule. Points used for redemption will be deducted and not be used in the calculation for the Top 3 prizes.
Score cards must be submitted by the end of the category schedule for the points to be used in the calculation of ranking.
Facility will be emptied after every time slot to make room for the next.
Rules and Regulations
A climber will be asked to terminate his/her climb and be lowered when:
The climber pulls on a quickdraw/hanger
The climber rests/falls on his/her climbing rope
The climber uses a hold other than his/her indicated route to climb
The climber uses T-Nut hole on the panels
The climber uses artificial aid/equipment to climb the wall
The climber exceeds the maximum allocated time during his/her attempt
Schedule
Youth/Children – Session 1: Saturday, 27 Aug, 08:00am to 12:00nn (All participants in this category should be at least 5 years old)
08:00am to 08:30am: Registration/Claiming of score cards
08:30am to 09:00am: Safety briefing. All participants / guardians / belayers / spectators will have to attend.
09:00am to 12:00nn: Climbing commences. Score cards are to be submitted before 12:00nn for scores to be valid.
12:00nn to 01:00pm: Tabulation of scores and awarding.
01:00: empty facility for next session
Open – Session 2: Saturday, 27 Aug, 01:00pm to 06:00pm (All participants in this category should be at least 13 years old)
01:00pm to 01:30pm: Registration/Claiming of score cards
01:30pm to 02:00pm: Safety briefing. All participants will have to attend.
02:00pm to 05:00pm: Climbing commences. Score cards are to be submitted before 05:00pm for scores to be valid.
05:00pm to 06:00pm: Tabulation of scores and awarding.
06:00pm: empty facility for grand opening party