Hello, climbers! Please take the time to read through our facility rules and regulations:
Before Your Visit
Facility Rules

We only accept fully vaccinated adults (18 yrs and above), youth (13-17 yrs), and children (5-12 yrs), who have completed two full weeks from their final dose of COVID-19 vaccine. Kindly present your vaccination card upon your visit.
We encourage everyone to book in advance to ensure your climbing session. Reservations are first priority; walk-ins will not be guaranteed entry right away if facility is at max capacity.

Operating Hours:

Weekdays: 1pm – 10pm
Weekends/Holidays: 10am – 10pm

If you're a first-time visitor, register ahead here: https://climbcentral.ph/bookings-new-normal/
If a guest shows signs of COVID-19 symptoms or has been in contact with someone with known symptoms within the last fourteen (14) days, we have the right to refuse entry. If you are feeling unwell, please stay at home.
To accommodate more climbers, only checked-in visitors will be allowed inside the facility.
Each child (5-12 yrs) needs to be accompanied by an adult. Youth (13-17 yrs) needs a legal guardian to sign on the waiver form upon registration.
Physical distancing measures are strictly implemented. See COVID-19 guidelines below.

 Programs

Intro to Climbing 2 hr guided climbing with instructor)
Beta Basics (four 1.5 hr sessions of technique classes) 
Beta Technical (3 hr session of climb and belay practice on top rope/lead)
To book any of these programs, you may click here.

Climbing Areas

Boulder area
Lead walls
Top rope and autobelay
Kiddie Wall
Your Visit with Us
Entry Procedure

Temperature checks will be conducted upon entry. If your temperature is above 37.5°C, we have the right to refuse entry.
Make your payment transactions at the counter. For membership and multipass holders with no transactions, you may directly check-in at the express lane.
Bring an ID and socks if you're renting climbing gear. Your ID will be returned to you upon check-out.
Sanitize your hands with alcohol and wash your hands upon entering the facility.

Full pricelist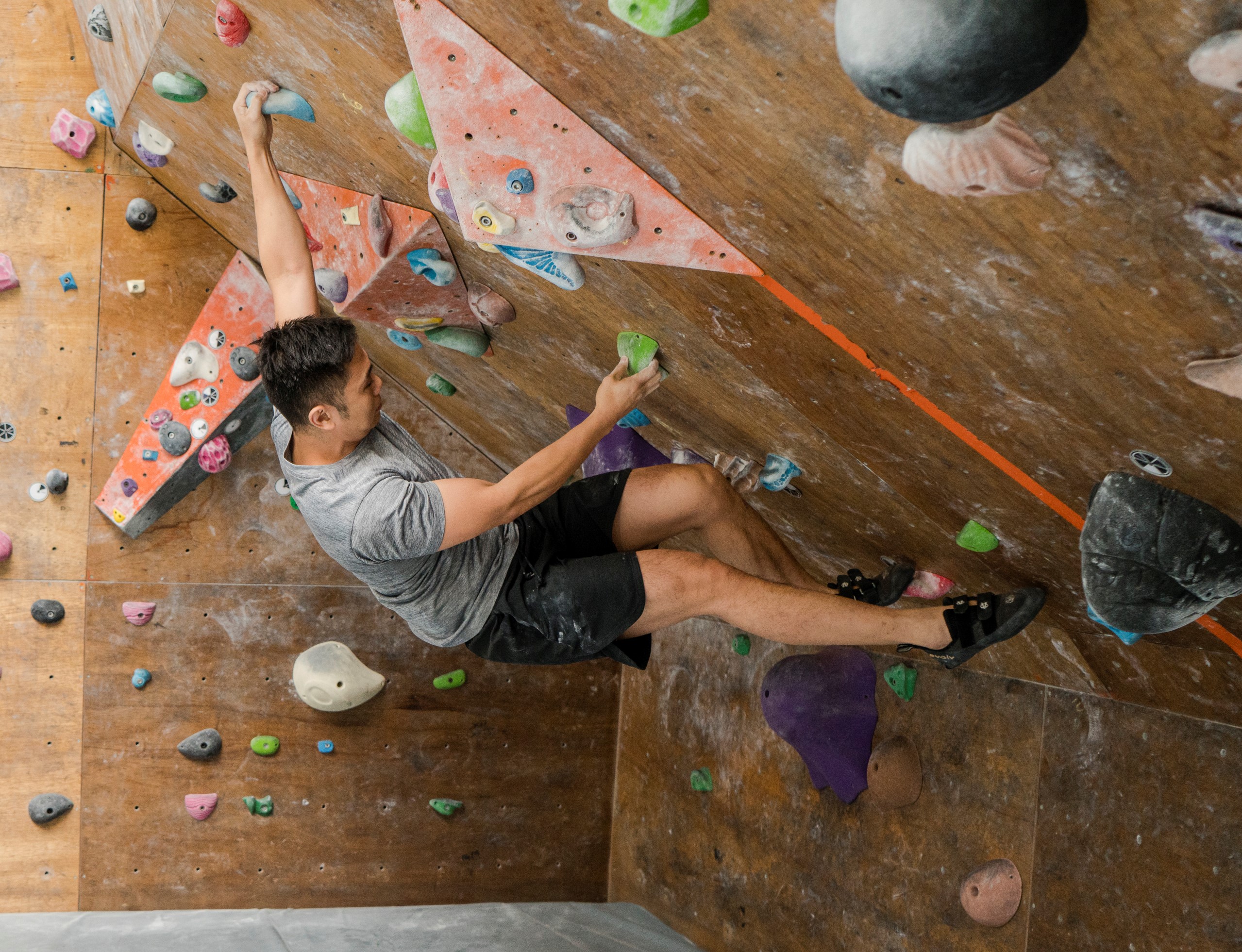 COVID-19 Gym Guidelines
Physical Distancing Measures

Stay within the marked paths when walking inside the facility.
Shower rooms will be closed indefinitely.
Crowding or group gathering is not allowed.

Hygienic Measures

Always sanitize your hands before and after your climbing session.
Everyone is required to

wear surgical or valveless N95 face masks

(cloth masks only and N95 masks with valves are not allowed) at all times even during climbing. You are encouraged to bring your own face mask but surgical masks will also be sold at the facility.
Multiple sanitizing stations are placed within the facility.
Each of our rental shoes and harnesses are disinfected after every use.
Air quality is improved with the installation of UV lights inside our air conditioning systems.
Liquid chalk and chalkballs are allowed. Loose chalk will remain prohibited indefinitely.
Water is allowed. Food and non-water drinks are still prohibited indefinitely.
Please dispose your own trash, e.g. water bottles, tissues, etc.
We would like to remind everyone that these new protocols are for the safety of all our customers and our staff. These guidelines will be subject to further changes as we continue to understand running a gym during the new normal. If you do not follow the rules during your visit, unfortunately we cannot allow you to enter the facility.
We hope to see you soon! *Tsek
Do you have questions? Head over to our FAQ page by clicking here.