Good news, climbers! We are finally opening our doors again and we can't wait to see everyone back. However, before anyone starts climbing on our walls, we are implementing a new set of rules that will help keep you, and our staff safe from the ongoing spread of COVID-19.
Please take the time to read through our new facility rules and regulations:
Before Your Visit
New Facility Rules

Sixty (60) individuals are allowed at a time inside the facility.
We are returning to a Day Pass system. We encourage everyone to book in advance to ensure your climbing session.

Operating hours:

Weekdays: 1pm-9pm
Weekends & Public Holidays: 9am-9pm
Reservations are first priority; walk-ins will not be guaranteed entry right away if facility is at max capacity. Visitors will have to wait for someone to exit before we can allow them to enter.

Reservations may be cancelled up to one day before the visit. Same day cancellation will not be accepted.
To reserve your climbing session, click this link: https://climbcentral.ph/bookings-new-normal/
If a guest shows signs of COVID-19 symptoms or has been in contact with someone with known symptoms within the last fourteen (14) days, we have the right to refuse entry. If you are feeling unwell, please stay at home.
To accommodate more climbers per time slot, only checked-in visitors will be allowed inside the facility.
Only people aged

18 years to 65

 years old are allowed within the facility as per GCQ rules. (We will update this as soon as the government releases a new mandate).
Physical distancing measures are strictly implemented. See COVID-19 guidelines below.

 Programs
Climbing Areas

Alternating top rope lanes are open.
Lead walls are open.
Boulder area is open with limited capacity (12 pax).
Your Visit with Us
Entry Procedure

Everyone must queue outside of the facility and wait for the signal to enter.
Temperature checks will be conducted upon entry. If your temperature is above 37.5°C, we have the right to refuse entry.
Returning customers with missing address and contact information, must provide the necessary info to aid in contact tracing efforts.
Everyone is required to register for Manda Track before entering, as required by Mandaluyong City. Register and download your personal QR code here: https://mandatrack.appcase.net/Register
Make your payment transactions at the counter. For membership and multipass holders with no transactions, you may directly check-in at the express lane.
All customers renting gear need to surrender their ID at the gear rental station. Your ID will be returned to you upon check-out.
Sanitize your hands with alcohol and wash your hands upon entering the facility.

Day Pass, Multipass, and Membership

The following will be available for purchase: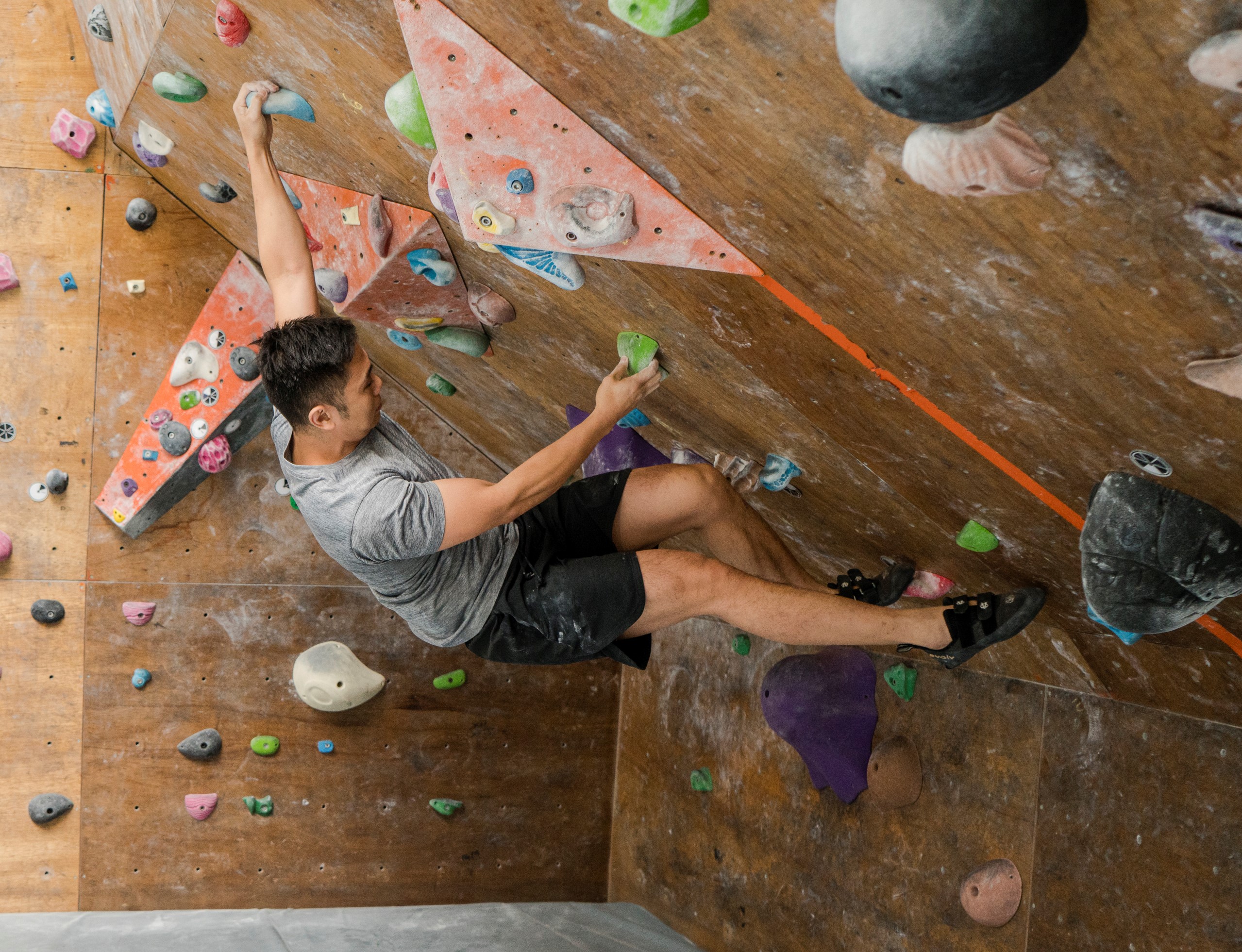 COVID-19 Gym Guidelines
Physical Distancing Measures

A queuing line will be implemented outside the facility at 1.5m apart. Maintain 1.5m distance from one another at all times inside the premises.
Stay within the marked paths when walking inside the facility.
Designated resting spots are marked on the floor. All of your belongings should be within the designated areas to avoid contact with other people's belongings.
We require a climber-belayer buddy system wherein there is

no switching of belay partners for the duration of your time slot.

If you're bouldering only, please have a designated spotting partner.
Restroom use will be limited to one (1) at a time for males, and two (2) at a time for females. Shower rooms will be closed temporarily.
Crowding or group gathering is not allowed.

Hygienic Measures

Always sanitize your hands before a climb or belay.
Everyone is required to

wear surgical or valveless N95 face masks

(cloth masks and N95 masks with valves are not allowed) at all times even during climbing. You are encouraged to bring your own face mask but surgical masks will also be sold at the facility.
Wear your face shield upon entry and for the duration of your visit. You may remove it only when you are climbing.
For those with long hair, we recommend to tie them back, away from your face.
Sneeze or cough into your elbow.
Multiple sanitizing stations are placed within the facility. We encourage you to bring your own hand sanitizer.
Each of our rental harnesses will be used only once per day. After their use, they will be disinfected and can only be used again the following day.
Depository trays are provided for gear rental to avoid human-to-human contact.
We will be disinfecting the facility with UV lights before operating hours. Air quality is improved with the installation of UV lights inside our air conditioning systems.
Hand wiping of high touch surfaces like seats and railings are done regularly during operations.
Only liquid chalk is allowed.
We will not allow bringing and eating of food inside the facility but water is allowed.
Please dispose your own trash, e.g. water bottles, tissues, etc.
Helpful Tips
Remember to sanitize your hands before you climb or belay. It is in washing our hands thoroughly with soap and water or alcohol-based rub that kills the virus.
Kindly refrain from touching your face. According to health authorities, we may become infected by transmission of the virus through our eyes, nose, or mouth.
Always keep your mask on, even while climbing. Studies have shown that wearing masks have helped slow down the spread of COVID-19.
Sneeze or cough into your elbow. When we sneeze, cough, or even speak, tiny droplets that may contain the virus could be inhaled by other people.
Please share the climbing lanes. With the limited routes available each day, it will be good social practice to let others have a chance to try them as well.
No switching of belay partners for the duration of your visit. This will lessen the chance of transmitting the virus to other people and aid in contact tracing.
Everyone is encouraged to bring their own mat or covering to sit on.
We ask everyone to dispose your own trash (water bottles, used tissue, etc.) so that other people will not need to handle them. This also lessens transmission of the virus.
Arrive at least 15 mins. before your time slot to maximize your session. Come in wearing your climbing attire so as not to use up your time.
We would like to remind everyone that these new protocols are for the safety of all our customers and our staff. These guidelines will be subject to further changes as we continue to understand running a gym during the new normal. If you do not follow the rules during your visit, unfortunately we cannot allow you to enter the facility.
We hope to see you soon! *Tsek
Do you have questions? Head over to our FAQ page by clicking here.